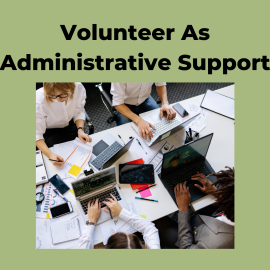 Administrative Assistants
Assist the Executive Director with a variety of organization tasks.
1-3 hours a week. Must have experience with Word, Excel, and a quick learner on other software platforms, depending on which area you choose to help with. Looking for a self-starter, a detail-oriented person that loves organization and new challenges. Computer work may be done from home once we have an in person orientation! It helps if you are passionate about helping the youth in our community and their lives. To learn more about TLT-Tomorrow's Leaders Today, please visit our website at: www.TLTLeaders.org
Assistance is needed in the following areas:
Programs (Ages 18 and older)
Business Services/Accounting (Ages 25 and older)
Represent TLT at Special Events (Ages 15-17 with Adult)
Represent TLT at Meetings (Ages 18 and older)
General Administrative (Ages 25 and older)
Social Media, Marketing, Website Updates (Ages 16 and older)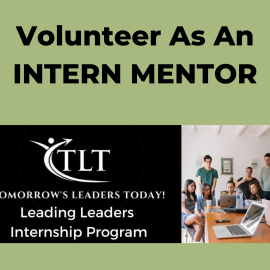 TLT Leading Leaders Intern Mentor
TLT is seeking experienced professionals to serve as a mentor for our REMOTE, TLT Leading Leaders Intern summer session for interns ages 15 and older.  100% remote, the summer session runs Now through July 28th.
Looking for professionals who have experience in a particular industry how can guide and mentor interns with their experience and knowledge. Our interns are participating from all over Texas, most found us through their university or college job board Handshake and many are earning class credit for participating with us.  Our program is curriculum based.
Mentors will share their career journey, the challenges, the gratifications and how to succeed in this role. May also include resume building, coaching, mock interviews, all remotely through virtual meetings. Our goal is to bring knowledge and awareness of the different career opportunities available, by giving interns exposure and access to inspirational, positive, caring professionals.
Mentors will provide guidance in how to navigate through the professional world, as they embark on their journey in taking the first steps into their careers, or just opening their minds to wider horizons.
We need mentors from ANY type of industry (law enforcement, pilots, mechanics, engineers, veterinarians, farmers. basically, any industry).  So if you are looking to make an impact, by volunteering your time and knowledge, we need you!
So how does this work?
After you complete a background check (usually takes 1-2 days), you select a team meeting to come and sit in on.  (Mon 130PM, Tue 1P or Tue 2P). You visit with interns closely to your field of interest in a short breakout room.  You are invited to watch their weekly team meeting project presentation and are invited to provide feedback.  After the meeting you share who you would like to work with, we send you both an email sharing this opportunity to have a mentor and if accepted by the intern, you both schedule your own virtual mentor sessions to meet your schedules.
Current roles our 52 interns are participating in include:
Accounting / Business Services
Cyber Security
Data Research
Development
GIS Basics
Grant Writing
Graphic Design
Human Resource
Marketing
Operations: Policies & Procedures
Program Coordination
Project Management
Social Entrepreneur
Video Coordination
Website Development
Volunteer must be 18 or older and a Multi State Background check is required.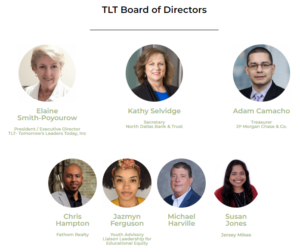 TLT Board Member
Ever wondered what it is like to be on the board of a nonprofit without the board of director responsibility?  Want to make an impact in the community but are looking for a way to start?
Come see what TLT is doing and bring your unique talent to help TLT grow by being part of the Board of Directors.
Current openings:
Secretary/Co-Secretary Community Outreach Governance
For more information or to apply, please Visit our application here.