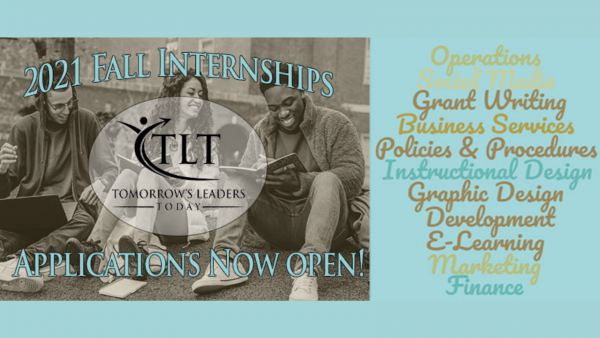 TLT Leading Leaders Intern Program
Our Leading Leaders Intern program strives to provide each young adult participant, ages 17, and older, in Collin, Dallas, Denton, Grayson and Tarrant Counties, the hands-on opportunities to gain valuable experience to integrate with their career path in mind while developing leadership qualities and skills with hands-on curriculum-based opportunities. These positions are all remote which allows us to serve many youths, in many locations, and inclusive to all. Experience is not necessarily required. Engagement with business, civic and community leaders aligned with the participant's career choice leads to more meaningful connections.
 Check with your school, some are offering credit for completing our curriculum-based program.
Fall 2021

REMOTE

Positions
Click for details

Fall 2021 internship applications open!
Fall Internship runs September 7th to November 19, 2021.
Weekly team meetings and bi-weekly one-on-one coaching sessions
are held under the supervision of a supervisor.
Winter 2021-2022 internship applications open
November 1st-November 30th, 2021 
Internship runs January 10th to March 31, 2022.
2021
32 Interns participated in the program:
Spring:
Catherine Landeros, Marketing/Social Media Intern, Graphic Design, Urban Fellows Intern Program, Texas Woman's University
Clay Vasquez, Marketing/Social Media Intern, Advertising and Social Science, University of North Texas
Karlie Guerra, Instructional Design/E-Learning  Intern, Human Development and Family Science, University of North Texas
Lauren Mizell, Operations Intern, Arts and Science in Business, Texas Woman's University
Mary Keating, Business Services Intern, Finance, Urban Fellows Intern Program, Texas Woman's University
Morgan Welch, Marketing and Graphic Design Intern, Graphic Design, Texas Woman's University
Summer:
Mallory Graham, Business Services Intern, Finance, Texas Christian University
Mary Keating, Business Services Intern, Finance, Texas Woman's University
Victor Mendoza Diaz, Business Services Intern, Accounting/Business Administration, Texas Woman's University
Carol Hohmann, Digital Marketing Intern, General Studies, Texas Woman's University
Hedija Spahalic, Grant Writing Development Intern, Journalism, University of North Texas
Jayme Dooley, Grant Writing Development Intern, Community Administrative Practice, University of Texas at Arlington
Lola Edwards Gomez, Grant Writing Development Intern, Library Science, Texas Woman's University
Sandra Desjardins, Grant Writing Development Intern, Library Science, Texas Woman's University
Bethany Martinez, Instructional Design/E-Learning  Intern, Science in Psychology, Texas Woman's University
Karlie Guerra, Instructional Design/E-Learning  Intern, Educational Psychology with a concentration in Learning and Development, University of North Texas
Aura Hoque, Marketing Intern, Marketing/Information Systems, University of Texas at Dallas
Brynn Lampe, Marketing Intern, Science Strategic Communication, Texas Christian University
Clarissa Sargeant, Marketing Intern, Business Administration, Texas Christian University
Estefania Martinez, Marketing Intern, Journalism, University of North Texas
Megan Hardman, Marketing Intern, Communication Studies, University of North Texas
Robin Brott, Marketing Intern, Marketing,Texas Woman's University
Steven Judson, Marketing Intern, Project Design and Analysis, University of North Texas
Tracy Baker, Marketing Intern, Science in Sociology, Texas Woman's University
Catherine Landeros, Marketing/Social Media Intern, Graphic Design, Texas Woman's University
Julissa Murrell, Marketing/Social Media Intern, Journalism, University of North Texas
Sebastian Bautista Corrales, Marketing/Social Media Intern, Strategic Communication, Texas Christian University
Alexandra Linares, Social Media Intern, Strategic Communication, Texas Christian University
Savannah Watson, Social Media Intern, Human Development and Family Science, University of North Texas
Vi Tran, Social Media Intern, Strategic Communication, University of North Texas
Kavin Saravanan, Social Media Intern, General Studies, Centennial High School, Frisco
Clay Vasquez, Social Media/Marketing Intern, Advertising and Social Science, University of North Texas
2020 
13 Interns participated in the program:
Summer:
Lark Applewhite, Instructional Design/E-Learning Intern, Science in Nutrition and Wellness, Texas Woman's University
LaDana Vann, Business Services Intern, Human Resource Management, Texas Woman's University
Fall:
John Alberts, Business Services & Marketing Intern, Finance and Marketing, University of North Texas
Lauren Mizell, Operations Intern, Arts and Science in Business, Texas Woman's University
Mary Keating, Business Services Intern, Finance, Texas Woman's University
Maricella Granados, Operations Intern, Logistics and Supply Chain Management, University of North Texas
Seungyeon Lee, Business Services and Operations Intern, Business Administration- Healthcare, Texas Woman's University
Yevhen Prokopenko, Instructional Design/E-Learning Intern, Informational Technology, University of North Texas
Morgan Welch, Marketing Intern, Graphic Design, Texas Woman's University
Catherine Landeros, Marketing/Social Media Intern, Graphic Design, Texas Woman's University
Aidan Estwick, Marketing/Social Media Intern, Graphic Design, Texas Woman's University
Sangeetha Gajendran Sarah, Grant Writing Development Intern, Healthcare Administration, Texas Woman's University

Winter 2020-2021:
Catherine Landeros, Marketing/Social Media Intern, Graphic Design, Texas Woman's University
Karlie Guerra, Instructional Design/E-Learning  Intern, Human Development and Family Science, University of North Texas
Lauren Mizell, Operations Intern, Arts and Science in Business, Texas Woman's University
Mary Keating, Business Services Intern, Finance, Texas Woman's University
Morgan Welch, Marketing and Graphic Design Intern, Graphic Design, Texas Woman's University