Our Leading Leaders Intern program strives to provide each young adult participant, ages 15, and older, in Texas, the hands-on opportunities to gain valuable experience to integrate with their career path in mind while developing leadership qualities and skills with hands-on curriculum-based opportunities. These positions are all REMOTE which allows us to serve many young adults, in many locations, and inclusive to all. Experience is not necessarily required. Engagement with business, civic and community leaders aligned with the participant's career choice leads to more meaningful connections.
Check with your school advisor, some are offering credit for completing our curriculum-based program, and with your career services office for possible grant opportunities for stipends for these unpaid programs.
Through generous sponsorships, opportunities to apply for stipends will be shared with current interns.
Fall 2022 Internships
September 12-November 23 (Applications open July 18th)
(Positions listed below, on Handshake and College Central)
REQUIREMENTS:
One virtual weekly team meeting 
Mon. 11:00 AM, Mon. 1:30 PM, Tues. 11:00 AM, Tues. 5:30 PM or Tues. 6:30 PM
and a

bi-weekly one-on-one virtual coaching sessions
held under the supervision of a supervisor.
~~~~~~~~~~~~~~~~~~~~
2022

REMOTE

Positions
Click for full details
Spring 2023 Internships
January 30-April 21 (Applications open December 18, 2022)
Summer 2023 Internships
May 1-July 28 (Application open March 1, 2023)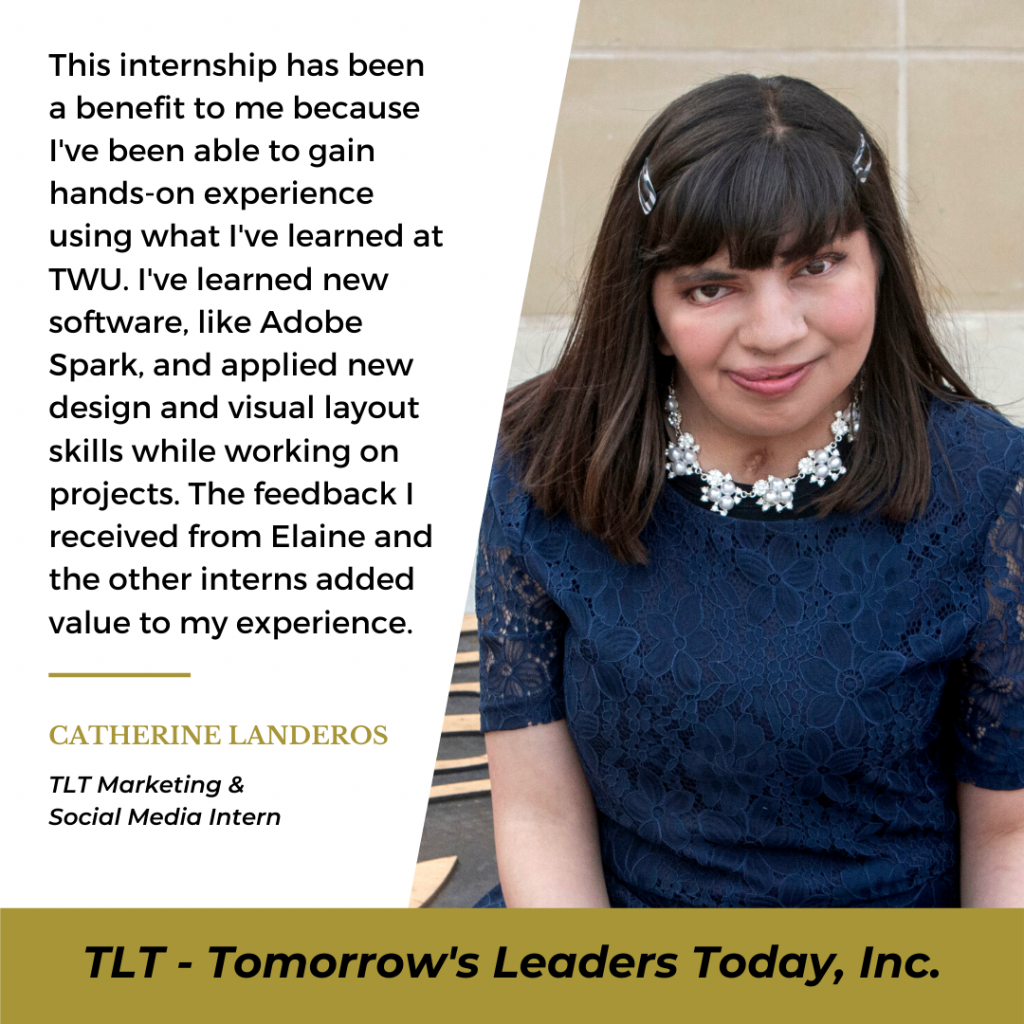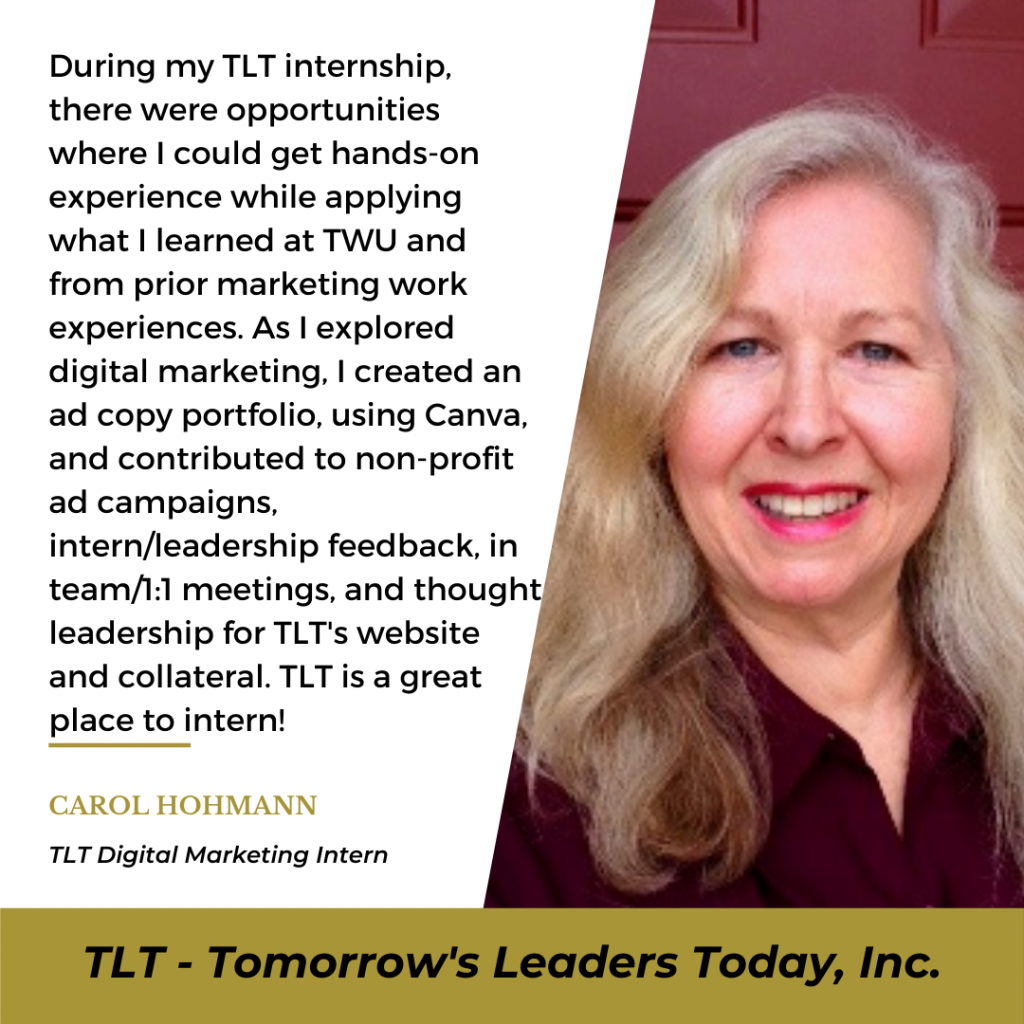 2022
61 Interns participated in the program:
Winter: 
Yassin Afifi, Business Services/Finance Intern, Finance, University of Texas at Arlington
Tracy Baker, Program Coordination Intern, MA in Sociology, Texas Woman's University
Whitney Brown, Business Services/Finance Intern, Business Administration, Texas A&M, Commerce
Adriana Davila, Development Intern, Marketing, Texas Woman's University
Skye Davis, Marketing Intern, Business Administration, University of Texas at Dallas
Jenna Deen, Graphic Design Intern, Fine Arts/Graphic Design, Texas Woman's University
Catherine Landeros, Marketing/Social Media Intern, Graphic Design, Texas Woman's University
Aaliya Lester, Business Services/Finance Intern, Business Administration, University of Texas at Dallas
Agnes Otieno, Development Intern, Computer Science INT, University of Texas at Arlington
Leah Pate, Social Media Intern, Public Relations, University of North Texas
Shivani Raval, Graphic Design Intern, Graphic Design, University of Texas at Dallas
Ellious Woodards, Operations- Policies and Procedures Intern, MA Business Administration, University of Texas at Dallas
Anika Zaber, Development Intern, Business Administration,  Texas A&M Commerce
Spring: 
Allison Camet, Grant Writing Intern, English, Texas State University
Bennchrist Duenas, Grant Writing Intern, Political Science, University North Texas
Catherine Landeros, Marketing Intern, Graphic Design, Texas Woman's University Alumni
Chandler Clark, Operations: Policies and Procedures Intern, Business Administration/Organizational Management, Texas Christian University
Jo Jofri, Social Media Intern, Business Administration, University of North Texas
Julianne Lauenstein, Operations: Policies and Procedures Intern, Psychology, Texas Christian University 
Maahum Sattar, Marketing Intern, Pre Business, University of North Texas
Mai Nguyen Accounting/Business Services Intern, Accounting, University of Texas at Dallas
Paola Avila, Development Intern, Arts and Science, Texas Woman's University
Rachel Gray, Social Media Intern, Journalism, University of North Texas
Sadie Starkey, Impact Management Intern, Psychology, Texas Woman's University
Shivani Raval, Marketing Intern, Graphic Design, University of Texas at Dallas
Tracy Baker, Program Coordination Intern, Sociology, Texas Woman's University 
Summer: 
Taylor Carroll, Marketing Intern, Business/Marketing, Allen High School
Sreesriya Vempati, Graphic Design Intern, Pre Communication Design, University of North Texas
Simran Jesani, Social Media Intern, Social Media/Marketing, Centennial High School
Saril May, Impact Management Intern, Psychology, University of Texas at Tyler
Sam Mathew, Impact Management Intern, Business Administration/Management, University of Texas at Arlington
Richard Goodrich, Social Media Intern, English Teaching BA, University of Texas at Arlington
Nema Kolta, Social Media Intern, Marketing, University North Texas at Frisco
Nawkar Nar, Development Intern, Human Resource Management, Texas Woman's University
Madison Otero, Social Media Intern, Journalism, Southern Methodist University
Linda Ward, Graphic Design Intern, Graphic Design, Texas Woman's University
Kayla Rubin, Development Intern, Psychology, Stephen F. Austin University
Jason Reyna, Development Intern, Nonprofit Leadership Studies, University of North Texas
Janelle Moss, Operations: Policies and Procedures Intern, Management, Tarleton State University
Jacquelin Beltran, Marketing Intern, Business Administration/Marketing, University of Texas at Arlington
Imaad Rana, Impact Management Intern, Operations and Supply Chain Management, University of North Texas
Ian Goehring, Marketing Intern, Pre-Business/Marketing, Texas Christian University
Hadley Archer, Social Media Intern, Arts Technology/Emerging Communication, University of Texas at Dallas
Grace Oriti, Graphic Design Intern, Interdisc Art and Design Studies, University of North Texas
Gabriela Guel, Grant Writing Intern, Public Health, Texas State University
Evan Taylor, Grant Writing Intern, Literature, Texas Woman's University
Daniel Song, Grant Writing Intern, Corporate Communications and Public Affairs, Southern Methodist University
Christian MacDonald, Social Media Intern, Criminal Justice/Communications, Texas Christian University
Chandler Clark, Operations: Policies and Procedures Intern, Business Administration/Organizational Management, Texas Christian University
Cathy Dinh, Graphic Design Intern, Communication Studies, Texas State University
Catherine Landeros, Marketing Intern, Graphic Design, Texas Woman's University Alumni
Callie Alexander, Social Media Intern, Media Production, Texas State University
Caitlin Van Ongevalle, Marketing Intern, Marketing University of Texas at Dallas
Cait Moore, Impact Management Intern, Management and Supply Chain Management, Baylor University
Brianna Stearns, Grant Writing Intern, Psychology, University of North Texas
Bennchrist Duenas, Grant Writing Intern, Political Science, University of North Texas
Ashlee Harris, Graphic Design Intern, Graphic Design, Texas Woman's University
Amy Wong, Impact Management Intern, General Business, Southern Methodist University, 
Alija Mesanovic, Impact Management Intern, Management, University of Texas at Arlington
Aditya Patel, Social Media Intern, Communications, University of North Texas
Aarav Sangani, Website Development Intern, Computer Science, Centennial High School
2021
49 Interns participated in the program:
Spring: 
Catherine Landeros, Marketing/Social Media Intern, Graphic Design, Urban Fellows Intern Program, Texas Woman's University
Clay Vasquez, Marketing/Social Media Intern, Advertising and Social Science, University of North Texas
Karlie Guerra, Instructional Design/E-Learning  Intern, Human Development and Family Science, University of North Texas
Lauren Mizell, Operations Intern, Arts and Science in Business, Texas Woman's University
Mary Keating, Business Services Intern, Finance, Urban Fellows Intern Program, Texas Woman's University
Morgan Welch, Marketing and Graphic Design Intern, Graphic Design, Texas Woman's University
Summer:
Mallory Graham, Business Services Intern, Finance, Texas Christian University
Mary Keating, Business Services Intern, Finance, Texas Woman's University
Victor Mendoza Diaz, Business Services Intern, Accounting/Business Administration, Texas Woman's University
Carol Hohmann, Digital Marketing Intern, General Studies, Texas Woman's University
Hedija Spahalic, Grant Writing Development Intern, Journalism, University of North Texas
Jayme Dooley, Grant Writing Development Intern, Community Administrative Practice, University of Texas at Arlington
Lola Edwards Gomez, Grant Writing Development Intern, Library Science, Texas Woman's University
Sandra Desjardins, Grant Writing Development Intern, Library Science, Texas Woman's University
Bethany Martinez, Instructional Design/E-Learning  Intern, Science in Psychology, Texas Woman's University
Karlie Guerra, Instructional Design/E-Learning  Intern, Educational Psychology with a concentration in Learning and Development, University of North Texas
Aura Hoque, Marketing Intern, Marketing/Information Systems, University of Texas at Dallas
Brynn Lampe, Marketing Intern, Science Strategic Communication, Texas Christian University
Clarissa Sargeant, Marketing Intern, Business Administration, Texas Christian University
Estefania Martinez, Marketing Intern, Journalism, University of North Texas
Megan Hardman, Marketing Intern, Communication Studies, University of North Texas
Robin Brott, Marketing Intern, Marketing, Texas Woman's University
Steven Judson, Marketing Intern, Project Design and Analysis, University of North Texas
Tracy Baker, Marketing Intern, Science in Sociology, Texas Woman's University
Catherine Landeros, Marketing/Social Media Intern, Graphic Design, Texas Woman's University
Julissa Murrell, Marketing/Social Media Intern, Journalism, University of North Texas
Sebastian Bautista Corrales, Marketing/Social Media Intern, Strategic Communication, Texas Christian University
Alexandra Linares, Social Media Intern, Strategic Communication, Texas Christian University
Savannah Watson, Social Media Intern, Human Development and Family Science, University of North Texas
Vi Tran, Social Media Intern, Strategic Communication, University of North Texas
Kavin Saravanan, Social Media Intern, General Studies, Centennial High School, Frisco
Clay Vasquez, Social Media/Marketing Intern, Advertising and Social Science, University of North Texas
Fall: 
Victor Mendoza Diaz, Business Services Intern, Accounting/Business Administration, Texas Woman's University
Sandra Desjardins, Grant Writing Development Intern, Library Science, Texas Woman's University
Bethany Martinez, Graphic Design Intern, Science in Psychology, Urban Fellows Program, Texas Woman's University
Tracy Baker, Grant Writing Intern, Science in Sociology, Urban Fellows Program, Texas Woman's University
Catherine Landeros, Marketing/Social Media and Graphic Design Intern, Texas Woman's University
Anisha Bhattaru, Operations and Social Media Intern, School for the Talented and Gifted
Jenna Deen, Graphic Design Intern, BFA Graphic Design, Texas Woman's University
Joselyn, Molina, Graphic Design Intern, Visual Arts, North Central Texas College
Katrina Flachsbarth, Instructional Design/E-Learning Intern, Learning Technologies, University of North Texas
Reidy Versfelt, Operations-Policies and Procedures Intern, Political Science/Emergency Admin and Planning, University of North Texas
Samuel Makonnen, Marketing Intern, Marketing BBA, University of North Texas
Sonali Jariwala, Marketing Intern, Marketing, University of Texas at Dallas
Abishek Nattamai, Development Intern, Information Technology, Business for Good Program, University of Texas at Dallas
Hajra Katlia, Development Intern, Information Technology, Business for Good Program, University of Texas at Dallas
Martha Franco, Development Intern, Information Technology, Business for Good Program, University of Texas at Dallas
Parsa Nejad, Development Intern, Information Technology, Business for Good Program, University of Texas at Dallas
Soban Muhammad Haris, Development Intern, Information Technology, Business for Good Program, University of Texas at Dallas
2020 
17 Interns participated in the program:
Summer:
Lark Applewhite, Instructional Design/E-Learning Intern, Science in Nutrition and Wellness, Texas Woman's University
LaDana Vann, Business Services Intern, Human Resource Management, Texas Woman's University
Fall:
John Alberts, Business Services & Marketing Intern, Finance and Marketing, University of North Texas
Lauren Mizell, Operations Intern, Arts and Science in Business, Texas Woman's University
Mary Keating, Business Services Intern, Finance, Texas Woman's University
Maricella Granados, Operations Intern, Logistics and Supply Chain Management, University of North Texas
Seungyeon Lee, Business Services and Operations Intern, Business Administration- Healthcare, Texas Woman's University
Yevhen Prokopenko, Instructional Design/E-Learning Intern, Informational Technology, University of North Texas
Morgan Welch, Marketing Intern, Graphic Design, Texas Woman's University
Catherine Landeros, Marketing/Social Media Intern, Graphic Design, Texas Woman's University
Aidan Estwick, Marketing/Social Media Intern, Graphic Design, Texas Woman's University
Sangeetha Gajendran Sarah, Grant Writing Development Intern, Healthcare Administration, Texas Woman's University
Winter 2020-2021:
Catherine Landeros, Marketing/Social Media Intern, Graphic Design, Texas Woman's University
Karlie Guerra, Instructional Design/E-Learning  Intern, Human Development and Family Science, University of North Texas
Lauren Mizell, Operations Intern, Arts and Science in Business, Texas Woman's University
Mary Keating, Business Services Intern, Finance, Texas Woman's University
Morgan Welch, Marketing and Graphic Design Intern, Graphic Design, Texas Woman's University