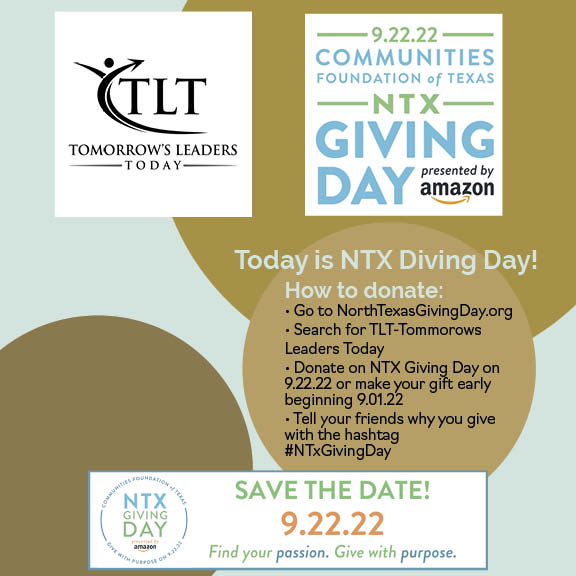 TLT-Tomorrow's Leaders Today will be participating in North Texas Giving Day on September 22, 2022. North Texas Giving Day is hosted by the Communities Foundations of Texas, allowing participants to give back to the community and help non-profits in the region. This event will allow awareness and collaboration while gaining new donors in the process.
.What is North Texas Giving Day? North Texas Giving Day is an 18-hour online event with easy-to-use platforms for donations. This event also allows participants to align their causes and passions with non-profits and offer their support. TLT-Tomorrow's Leaders Today has been greatly helped by North Texas Giving Day through the exposure and expansion of the Leading Leaders Internship Program. This program has granted remote work opportunities to Texas students and helped them gain leadership qualities and skills, while also counting as educational credit if applicable.
TLT-Tomorrow's Leaders Today's most critical need is raising funds for intern stipends and other additional funds to continue providing services at little to no cost. With these funds, TLT-Tomorrow's Leaders Today can continue bringing the program to each community and help underserved students.
TLT-Tomorrow's Leaders Today is Platinum Seal Guidestar Transparency approved and could not have done this without community partners and volunteers who gave 8860 hours in 2021.