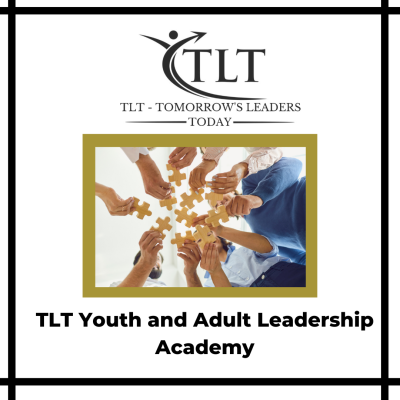 TLT Youth and Adult Leadership Academy is a six-week program presented by TLT- Tomorrow's Leaders Today to any interested 14-17 year old together with an adult 18 years or older, who live or work in Collin or Denton county, held three times a year.  Community focused sessions are 2 hours long, once a week ending with a certificate of graduation.  
Each session explores leadership dynamics, social service organizations, servant leadership, community growth and education, community health and safety, community government and community culture and leisure.  Each member will work with their class building on and using their leadership skills to complete a class project that will benefit the community.
Participants are introduced to local officials, school board trustees, administrators, community leaders, as well as, local nonprofits and volunteer opportunities. Leadership skill topics are taught with active participation along with life-skills. Each graduate is encouraged to actively contribute to the community's growth and future.  
Program runs Spring, Summer and Fall at various locations
CIVIC LEADERSHIP TRAINING
TLT Youth and Adult Leadership Academy (YAALA) has the following objectives:
To inform the participants about the community's history, government, social needs, opportunities and existing processes for improvement.

To introduce the participants to and establish dialogue with each other and the current leaders in their community.

To encourage the participants to actively participate in future activities which contribute to the growth and betterment of the community.

To provide current and future employers with a source of knowledgeable and trained leaders who can and will have a positive impact on the community.
PERSONAL DEVELOPMENT TRAINING
TLT Youth and Adult Leadership Academy (YAALA) provides individuals with a program that assists in the development of leadership characteristics and skills. Individuals participate in various hands-on learning activities that will help identify personal values, visions, and life-long goals. 
The program provides important concepts crucial to an emerging leader, ranging from problem solving to time management. Graduates of the program acquire a working knowledge of themselves as well as their community. 
In short, TLT Youth and Adult Leadership Academy (YAALA) not only produces leaders, it also enriches the lives of all who participate in the program.
CLASS SCHEDULE AND COST
TLT Youth and Adult Leadership Academy (YAALA) Classes run throughout the year, Spring, Summer and Fall.
Spring 2023 Classes being formed
Session runs once a week for six weeks. Space is limited.
Days and Times vary upon location, request a program in your area!
Cost for the Program is $250 for both a youth participant 14-17 and their adult (2 participants) both must participate. **Local Chamber Member and Rotary Members discounts available.